Vale the Dog
Note From Silver: This is different from my other pages. This is actually written by Vale =)

I'm a yellow labrador. I was born in England on 3rd September 1999. I was a very special puppy - I was training to be a Guide Dog for the Blind. When I was 6 weeks old I left my mummy and went to live with a puppy walker. They were very kind to me, I was very intelligent (even if I do say so myself! ;o)) and was doing well in training. When I was about a year old I left my puppy walkers and went to the Guide Dog Centre in Exeter, England, UK.

I hadn't been there too long when my leg started giving me problems. My trainer decided the best thing to do was to give me a couple of months rest. She rang Silver and her family, who said they would take me! I arrived in January 2001, and had a wonderful couple of months.

Here is a picture of me! (Updated 14th May 05 - a decent one at last, Silver finally bought a proper digital camera!)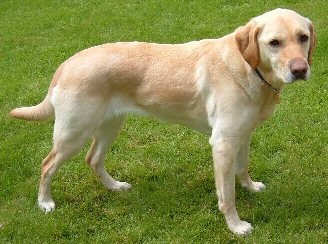 (Click photo for bigger version)
In the middle of March it was time to go back. I said bye, and lept in the car. If I failed my puppy walkers couldn't have me back, so Silver asked if they could have first refusal.

I suppose it was a couple of months later, end of May or beginning of June that they decided I had to be retired early, due to my leg.

My trainer rang up Silver's family, and they agreed to have me permanently, as a family pet! I've lived here since June 2001, and I love it! I have to be slightly careful when I play, because of my leg, but I still have a lot of fun! My leg's a lot better now, and hardly ever bothers me. I go for two walks a day, and I have access to the garden, which is fairly big, whenever I want! When I'm not on a walk or eating I can normally be found asleep on Silver's bed. I'm a typical Labrador, and I love my food! I get weighed once every week or two, cos if I get overweight it would put a lot of strain on my leg ;o).

Ooo yes - one last thing. I have my own site, Pawprint.