Boris the Guinea Pig
When Meg died Molly was very lonely, after a few days I went up to West Hatch to do my usual volunteering and..er..came home with a guinea pig LOL
His name is Boris, he was born in approximately September/October 2003 and he's tort + white. I hasten to add, he's also neutered ;-) When I brought him home I put him with Molly and it was love at first sight! She was being a bit of a pain and he had to give her a couple of nips to put her in her place but other than that all is well. Moll is absolutely devoted to him, you can't seperate them for too long! Boris is the most laid back piggy you could hope to meet, he's horizontal...
No matter what position you put him in he just stays there! A couple of weeks after he came home I gave him a bath, when I was drying him I wrapped him in the towel, put him on his side then unwrapped it and he didn't move! He looked dead, scared me to death - thought I'd given him a heart attack.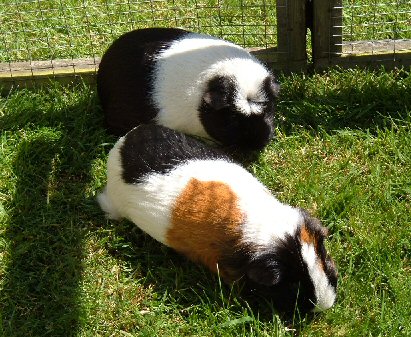 (Click photo for bigger version)
Here we have Boris and Molly dining on grass! It was rather a bright day for taking photos, especially on black animals, but still!
When Molly died in June 2006 I decided not to get a friend for him. Unlike Molly he's such a laidback piggy that he seems to be fine with just human company. He gets extra cuddles!
Sadly just 7 months later, on the 24th January 2007, Boris died. At just over three years old it was very unexpected. Much like Molly, but without the cold, he was fine the previous evening and very poorly by the next morning. He hadn't eaten his food, was soaking under his chin and his body weight looked to have halved over night. He had the same look about him as Molly so I knew it looked bleak, but as he hadnít had the previous cold symptoms and was still young I wasnít about to give up on him. I syringe fed him regularly that morning. Really I knew he was past the point of saving but I just had to try. Early that afternoon he died.